PRIMARY EYE CARE PROGRAMME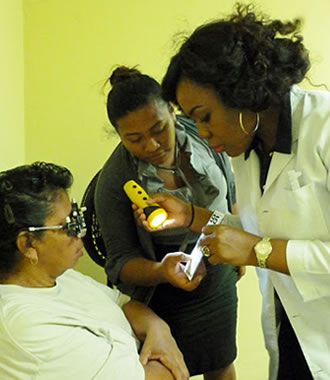 The Primary Eye Care Programme is the point of the patient's first contact with BCVI. In our effort to prevent needless blindness we conduct clinics countrywide on a regular basis. We have five base clinics throughout the country with three Optometrists providing comprehensive eye exams. Ophthalmic Assistants (OAs) in each clinic organize patient flow, triage urgent cases, dispense glasses and support the Optometrist in clinic. OAs also assist with planning outreach clinics during which the Optometrist and OA conduct full clinics in towns or villages needing the service, referring patients with eye diseases to Secondary Eye Care. OAs also perform community and school screenings and refer patients to the Optometrist as needed. There is no charge for an eye examination at these clinics. With no appointment necessary, people have easy access to quality eye care.
At the primary level in 2016:
A total of 810 eye clinics were held.
A total of 12,332 persons were examined:

2,469 were children.
9,863 were adults.

A total of 4,003 prescription glasses were dispensed.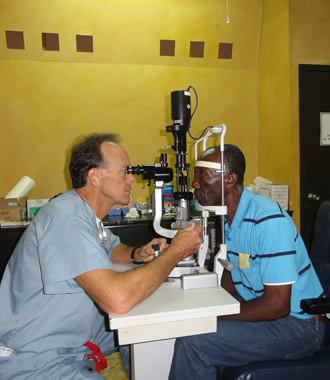 As well as providing examinations free of cost at this level, the treatment & glasses that are prescribed are available at an affordable cost so that no one goes without the care they need.
There is an ongoing effort to improve the care and at any given time we have at least three optometrists on staff. We have benefited from individual volunteers who provide service occasionally and from visiting groups that conduct clinics in the most remote rural settings. The optometrists also assist in the training of the OAs to enable them to identify eye problems and schedule or refer them appropriately.
Our base clinics are all centrally located in the district towns and we are in the process of making them more comfortable & efficient. We have gradually been able to equip all the clinics with the basic examination equipment. Routine tests to detect cataracts, glaucoma & diabetic retinopathy are performed, in addition to refractions. We offer a wide selection of quality frames to choose from when patients are prescribed glasses. The prescription glasses are generated at our Eye Glass Lab in Belize City and through a coordinated system they are easily distributed at the district level, thereby saving the patient a costly journey to the city.
In further efforts to get the word out on the importance of early eye exams in preserving sight BCVI takes part in many community activities. These include community health fairs and conducting clinics with local church groups & business houses. When working in the villages, we liaise with the government health clinics, village councils, teachers & community health nurses to arrange clinics for the people in their area.
BCVI is committed to expanding its effort to eradicate needless blindness and will continue to work with all partners to improve its Primary Eye Care Programme.