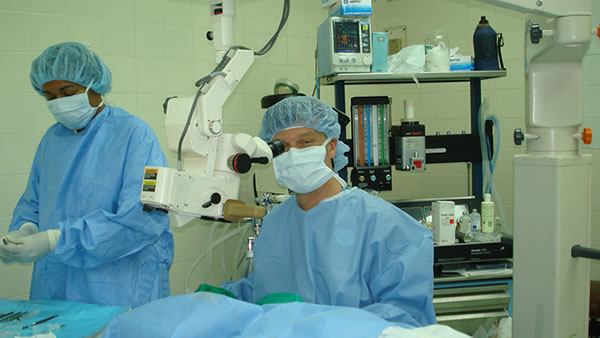 BCVI's Secondary Eye Care Programme is based at the National Eye Clinic (NEC) located in Belize City, Belize District. This is the central referral facility for all patients from our clinics around the country needing further medical & surgical treatment for their eye condition. With the introduction of the NEC in early 2000, we have been able to attract international volunteer Surgical Ophthalmologists and Eye Care Specialists to work alongside our Medical Ophthalmologist to treat patients with Cataract, Glaucoma and Diabetic Retinopathy, as well as other eye conditions. Our comprehensive eye exams and efficient referrals from the primary clinics allow for ease of process flow once patients arrive at the NEC.
Our National Eye Clinic includes:
A state-of-the-art operating theatre.
A comfortable reception, waiting & dispensing area.
Well-equipped examination & refraction clinics.
Affordable & top-quality service, medication & treatment.
The setting up of the NEC in 2000 has contributed significantly to the reduction of cataract blindness, which still remains the leading cause of blindness in Belize. We are very happy to be a provider of cataract surgery for the National Health Insurance (NHI) and hope that coverage will eventually extend to the whole country.